A One Day Walking Guide through Downtown Kyoto
During college I spent a full year studying abroad in Kyoto. Without a car and on a non-working student's budget, I did my best to explore (including a few out of town trips to Tokyo, Hokkaido, and Okinawa), but for the most part, I used the two feet that the good lord gave me and did a lot of walking around central Kyoto. While this area might be lower on people's to do list than some of the attractions on Kyoto's periphery (Fushimi Inari, Arashiyama, Kinkakuji, etc.), downtown Kyoto is just as rich, and I would argue that there's actually a whole lot more to see and do in this area than at any of those other places.
Because I loved this area so much and was there so often, I came up with a route through it that I would take friends and family on if they were visiting Kyoto for the first time. After doing this tour four or five times, I figured I got it down well enough to confidently share with other people. So here it is written out for all of your Kyoto visiting, slow travel needs!
This guide will take you along a main route, pointing out major sights and attractions as well as things to eat, places to shop, and other places of note. Feel free to stop at as many or as little of them as you'd like and get lost along the way!
A few things to note before we get going:
Most of Kyoto is built on a perfect north-south east-west grid, so I'll be using cardinal directions in my explanations. It might help to have a compass app on your phone, but I'm sure you'll get the hang of it pretty quickly (if I can do it, anyone can!).

I suggest beginning around mid-morning, which should have you finishing at just about sunset (AKA the best time of day to see the last place on the tour!), though of course this fluctuates depending on the time of year. I've done it in December when the sun sets around 4:45 with a 9 am start time and had great results, so feel free to base your own timing off of that.

In general though, this guide leaves plenty of room for taking your time and really exploring the area! There's no need to rush, I promise you'll make everything in time.

The places in the guide are labeled with location markers that correspond to the map below. It's a Google Map, so you should be able to open and save it to your phone to reference without having to open up this page!

The line on the map is just there to show the general direction you should go in. Don't worry about sticking to it exactly, and feel free to wander and get lost.
Our tour starts at the corner of Nishikikoji-dori and Karasuma-dori (A1). If you're staying around Kyoto Station, it's easily reachable via the Karasuma subway line - just get off at Shijo Station and walk north for about five minutes along Karasuma-dori until you reach Nishikikoji-dori. From there, head east down Nishikikoji-dori until you reach a covered walkway.
Nishiki Market
This is Nishiki Market (A2). Here you'll find dozens of food vendors selling mostly things that are considered typical "Kyoto" foods - pickled vegetables, tea, tofu - as well as an assortment of other seasonal goods and cookware. Many of the stalls give samples or sell made-to-order foods in bite-sized quantities, so come with an empty stomach, and taste a little of everything along the way!
Teramachi & Shinkyogoku
(A3) At the end of the market, you'll emerge into a covered shopping arcade. This street (Teramachi) and the street that runs parallel to it (Shinkyogoku) are the core of Kyoto's shopping district. They span several blocks each and are filled with boutiques, cafes, restaurants, and souvenirs aplenty. But they weren't always that way. Back in the 16th century, Toyotomi Hideyoshi forcibly moved many of the city's temples and shrines into this district (Teramachi literally means "Temple Town"), and you can still see remnants of this past - tucked between the more modern stores are a number of small temples, shrines, and religious goods stores. Take your time to wander up and down these streets, stopping to look at anything that catches your fancy.
Next, as you exit Shinkyogoku onto Shijo-dori, you'll head east toward the river. Before you get there, though, keep an eye on the streets to your left. Lined with bars and clubs at night, during the day, Kiyamachi and Pontocho (A4) are incredibly picturesque (particularly in the spring ) and make for some A+ photo ops.
The big river that you'll cross over is called Kamogawa. During the summer, the restaurants that line the west side all have platforms called kamadoko stretching out over the river for people to enjoy the scenery as they eat.
Gion
Once you're past that, you begin to enter Gion. If you've ever read Memoirs of a Geisha or watched the movie, that name probably sounds really familiar. Historically, it sprung up as an entertainment hub and quickly became known as Kyoto's most famous geisha district. While you're not likely to encounter any maiko or geiko (at this time of day, anyway), you'll still be treated to a glimpse into the past. Much of this area, especially off the main street, retains its historic charm. One of the intersecting streets, Hanamikoji-dori (A5), is lined with high end restaurants and what are known as ochaya, or teahouses where the maiko and geiko entertain. I recommend not only taking a stroll down this street, but also peeping into the small alleyways that connect to it.
As you hit the end of Shijo-dori, you'll see Yasaka Shrine (A6). Originally called Gion Shrine, Yasaka Shrine is one of the busiest in Kyoto and is a favorite among locals for their New Year shrine visit. As you enter through the first gate, there are often food stalls lining the path to the main part of the shrine. As at any point in this tour, feel free to stop for a quick bite!
After you're done looking around or saying a quick prayer, exit straight on out through the back of the complex (keep going east) where you'll hit Maruyama Park (A7). In the spring it's alight with cherry blossoms and the glowing cheeks of inebriated salary men. A lovely sight all around.
Nene-no-Michi
Next, you'll turn south and meander through the streets of southern Higashiyama. The main street that runs through this area is called Nene-no-Michi (A8) and was named for the wife of Toyotomi Hideyoshi. The traffic through this street is mostly pedestrian, so feel free to take your time, window shop the boutiques, grab some matcha ice cream, and admire the rickshaw pullers' chisled thighs (Side note: the word "rickshaw" come from the Japanese word jinrikisha, which means man-powered vehicle, and girl, these really are man powered).
I know I've said this a million times already, but this area is so full of historic charm that you can't help but feel like you've stepped back in time. Especially since you'll likely see dozens of women (and men!) in kimono throughout the day. There are many places to rent kimono, and there's even a program in place where certain stores and restaurants around the city offer discounts if you're wearing a kimono in order to promote the historic vibe of the city.
Ninenzaka & Sannenzaka
Soon you'll turn onto a hill lined with a bunch of little stores. This is Ninenzaka (A9). Local lore has it that if you trip on Ninenzaka (whose name means "two year hill") or its sister street, Sannenzaka (A10) ("three year hill"), you'll get two or three years of bad luck respectively. So in order to best avoid that, I recommend, you guessed it, going slooooow. You'll want to anyway! Many of the shops sell Kyoto-specific souvenirs including yatsuhashi, a sweet made from rice flour which comes either hard and baked or soft and filling-filled. There are a ton of different flavors, and all of the stores actively invite you to try all of them. Some of the stores even provide you with a cup of tea to have while you sample! I particularly recommend stopping in at Nishio Yatsuhashi (C7) (they're the most free-flowing with their samples!).


Tucked alongside the souvenir stores you'll see a few little pottery stores as well. This area used to be home to many of the city's potters, and there's a specific type of claywork named for it, kiyomizuyaki.
Kiyomizu Temple
At the top of the hill sits Kiyomizu Temple (A11). The temple itself is currently under renovation and will be until 2020, so you won't get a good view, and I would personally save my money and maybe not go into the main portion. That being said, however, do go into Zuigudo (D4). It's a small temple just outside the entrance to the main building that has an underground room that's pitch black and is supposed to simulate the Buddha's mother's womb. As you descend into the basement, you quickly lose all sight and rely solely on a thick rope of beads to guide you slowly towards a central stone where you can say a prayer or make a wish. It isn't a very long pathway, but it's such a novel experience to lose your sense of sight so completely.
Once you've had your fill of samples and sweets, you'll head back down the hill a bit and take a little turn north. It won't be long until you'll begin to see the top of a pagoda peeking out over the houses. Colloquially known as Yasaka Pagoda, Hokanji (A12) is said to have been inspired by a dream. And for good reason. I'm sure you've seen it all over your instagram feed, and no doubt there will be at least a few other people there to get a good shot of it as well.
And that, friends, is where our tour ends. Once you're done at the pagoda, head out to Higashiyama-dori to hop on your choice of buses (#100 and #206 go to Kyoto Station), turn north to head back to Shijo-dori, or continue wandering.
Outside of the places mentioned above, here are a few more places that might be interesting to you!
Food
Gogyo Ramen is known for its burnt ramen and had a little bit of an internet famous moment a couple years back. They light the fatty broth on fire, which gives the soup a deep, smoky flavor. The Kyoto branch (there's one in Tokyo as well) is housed in a machiya, a traditonal Japanese townhouse.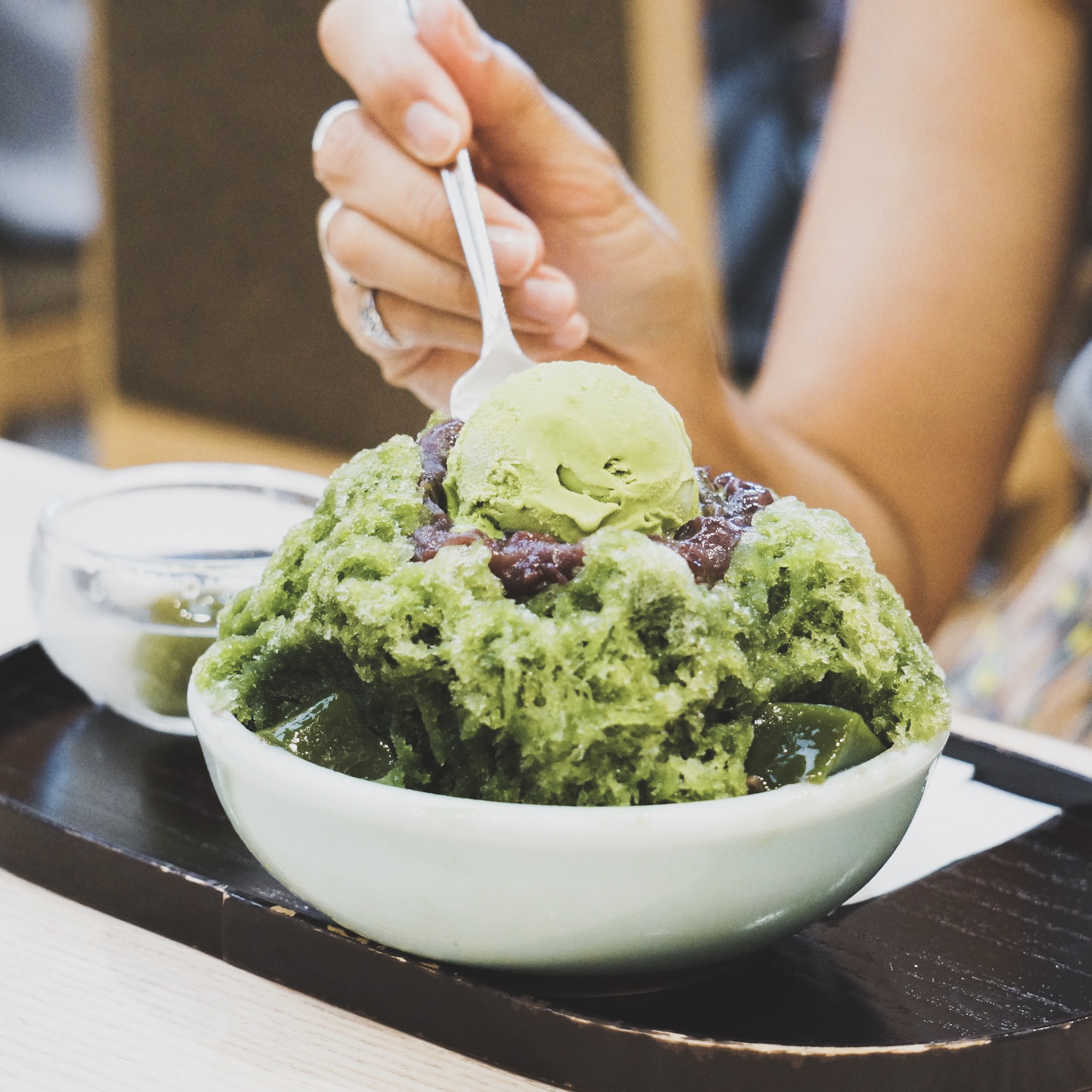 One of the most famous places to get your matcha fix in Kyoto. They have drinks, sweets, and even savory matcha noodles. Fair warning, the line getting in can be pretty ridiculous sometimes.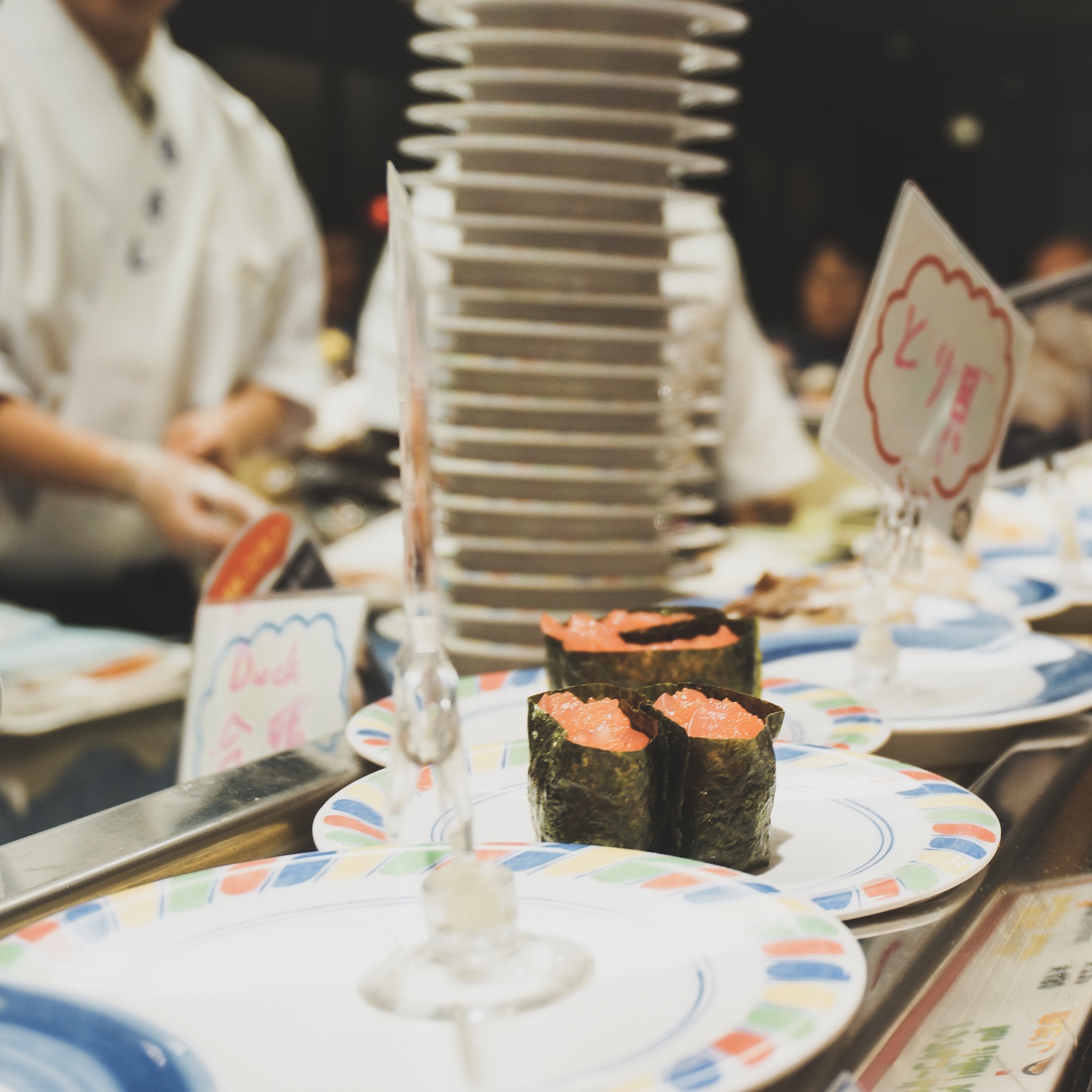 Musashi is a conveyor belt sushi restaurant where basically everything is ¥150. You won't find anything too fancy here, but what they do have is of fantastic quality for the price.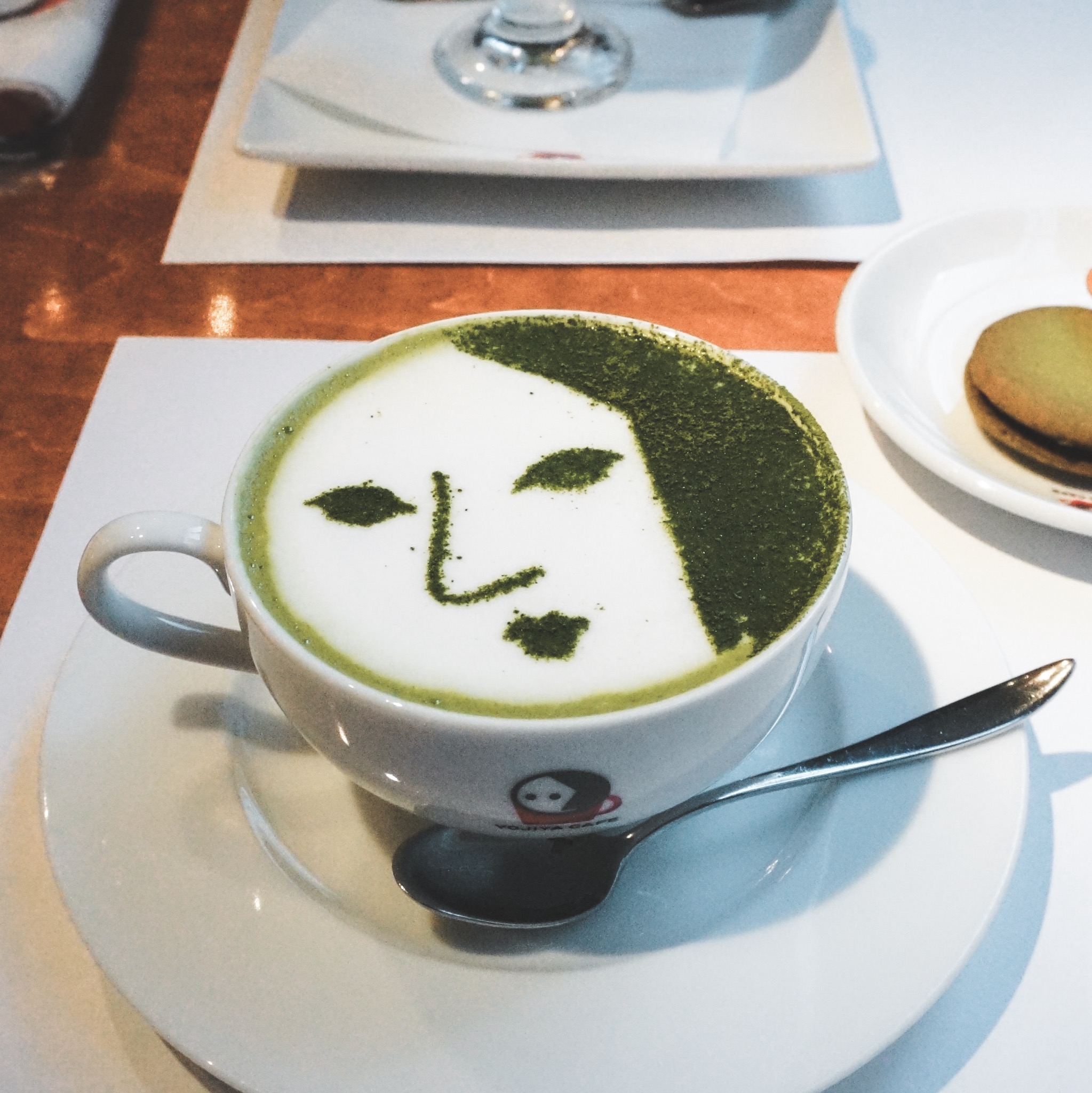 Yojiya is equal parts cosmetics company and matcha cafe. Its signature drinks are topped with an image of a woman dusted in matcha powder.
One of the foods Kyoto is known for is tofu, and there are a number of restaurants specializing in full meals built around it. Junsei Okabeya, tucked into a quiet nook on a busy street, is one of them.
Starbucks Ninenzaka(B5)
Perhaps you've seen this one floating around the internet lately. While all of Japan's Starbucks locations are surprisingly aesthetic, this one in particular incorporates Japanese interiors and offers tatami mat seating.
%Arabica Higashiyama(B7)
Just around the corner from Yasaka Pagoda, the Higashiyama branch of this insta-famous brand supposedly serves a pretty banging cup of coffee (I'm a tea person, so I really can't vouch for it, sorry!)
Shopping
Aritsugu (C1) - Japanese knives are some of the highest quality knives in the world, and Aritsugu makes some of the best in the country.

Can Do (C2) - A ¥100 store - perfect for souvenirs, snacks, or just to pick up little things that you might need. Japanese ¥100 stores are no joke, you get such good quality stuff for only about a dollar.

3coins (C3) - A ¥300 store - for slightly better quality souvenirs

Kyukyodo (C4) - Japan makes some pretty high quality paper, and Kyukyodo has been selling it since the 1600s

Loft Kyoto (C5) - A lifestyle/home goods store perfect for buying things like stationery and cosmetics. See also Tokyu Hands, a bit farther west on Shijo-dori

Donguri (C6) - for those of you who like Studio Ghibli movies or need to buy souvenirs for people who do, go no farther than this store. Stop by for a picture with the giant Totoro out front!
Sights
Kyoto is the birthplace of Kabuki, a type of Japanese theather, and Minami-za is the biggest, bestest Kabuki theater in Kyoto
Kanji Museum (D2)
A fairly new addition to the city with interactive exhibits and cool displays all about every Japanese learner's favorite thing, kanji
A really big outdoor Buddha. You technically have to pay for entry, but it's big enough that you can very easily get a good look from outside the pay gate.